about the work
The UK premiere of Nomanslanding will take audiences on a unique journey through Tramway's epic theatre space. At the heart of the piece is a monumental machine architecture designed to be a space for listening, contemplation and performance. Audiences will enter a seven metre high structure, that reaches 20 metres from end to end as the journey unfolds.
Nomanslanding is major interdisciplinary artwork created through collaboration between five internationally reknowned artists – Glasgow-based Graham Eatough, Australian artists Robyn Backen Nigel Helyer and Jennifer Turpin and Dutch artist, Andre Dekker/Observatorium.
The work opens in Tramway 1 on Wednesday 21 June.
The work has been developed for this presentation in association with Refugee Festival Scotland and touches upon contemporary themes of migration and asylum as well as more personal experiences of journeying, separation and loss.
A programme of participation events will accompany Nomanslanding, including Sculptural and Soundscape Masterclasses, and a panel discussion with the artists and curators behind the work. Lorenzo Mele, Producer of Nomanslanding: As part of the fantastic new season, this exciting, ambitious project will animate Tramway's theatre space in a way that has never been attempted before. This is a monumental work that invites personal reflection as part of a shared experience.
Working with artists based on two continents whose practices encompass public art, sound work, architecture and performance to bring Nomanslanding to Tramway has been hugely inspiring, and we look forward to welcoming audiences to take part in what will be a truly unique experience.
TRAMWAY 1 THEATRE 22 June – 2 July Tue – Fri: 4pm, 5pm, 6pm, 7pm, 8pm Sat & Sun: 2pm, 3pm, 4pm, 5pm, 6pm, 7pm, 8pm (Each performance lasts approx 35 mins)
Nomanslanding is a unique collaboration by five international artists whose different practices involve public art, sound work, architecture and performance. Co-commissioned and co-produced by Merchant City Festival Glasgow, Sydney Harbour Foreshore Authority in Australia and Urbane Kuenste Ruhr in Germany. It is an outstanding piece of interdisciplinary work that has been experienced by thousands in Sydney and the Ruhr and has now been re-conceived for this, its UK premiere.
Poster for Nomanslanding Glasgow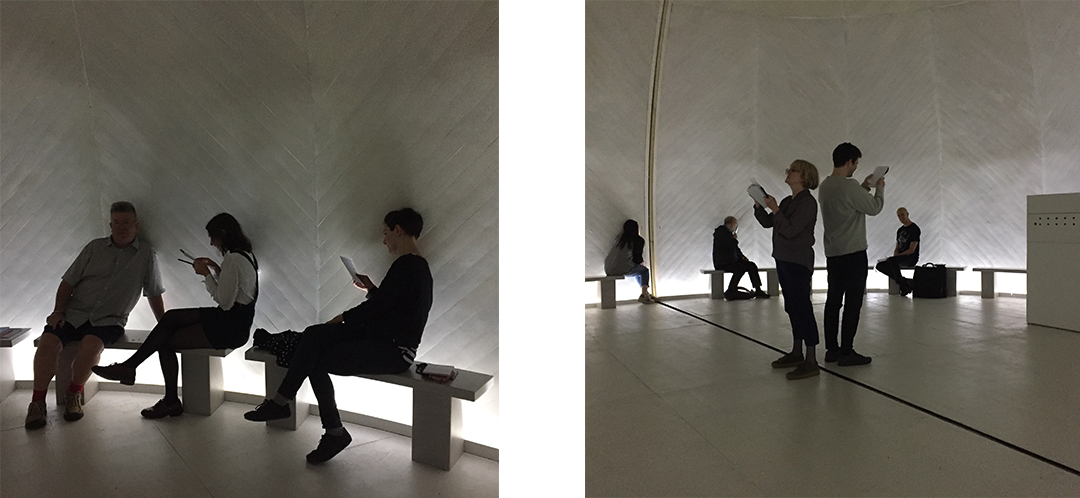 Sound workshop with Robyn Backen and Nigel Helyer
---