Spaced3 in the AGWA
15 August 2018
---
Barn Wall Completed
17 July 2018
Links
https://robynbacken.com/works/spaced-3-north-by-southeast
https://robynbacken.com/works/spaced-3-north-by-southeast
http://three.spaced.org.au/spaced-3-agwa/
http://three.spaced.org.au/robyn/
---
Barn Wall rebuild SPACED 3, AGWA
01 July 2018
Working with Mark Walkden and skilled team at Artcom, Perth to re-construct the Barn Wall, originally created in Swedish, 2017 for Spaced 3: north by southeast residency. Exhibition opens Friday 17 August at the Art Gallery of Western Australia Spaced 3: north by southeast is presented by International Art Space in partnership with the Art Gallery of Western Australia.
---
Thought Train
18 May 2018
Thought Train is on view again for the month of May.
Ian and I would like to invite you to come and experience the work with us.
Proposed viewing with Ian and I on site at Wynscreen, Wynyard Station.
Sunday 27th May 1pm to 3pm
Wednesday 30th May 6.30 to 8.30pm
or
Other screening times:
6am-3pm on odd-numbered days throughout May 2018
3pm-12am on even-numbered days throughout May 2018
Thought Train
Robyn Backen and Ian Hobbs 2016, duration 30 mins, looped Commissioned by Transport for NSW
https://www.transport.nsw.gov.au/programs/wynscreen
http://robynbacken.com/works/thought-train
---
Red Gate Residency, Beijing China, April 2018
30 April 2018
For one month, April 2018, I undertook a Residency at Red Gate Studios in Beijing, supported by Bundanon Trust, NSW. The residency is an extention of my Australia Council Fellowship Research into Whispering Architecture. This project has been active for more that 10 years and resulting in projects such as; Whisper Pitch, Last Word, Walls that Whisper, Whispering Trees. The work developed in Beijing has a direct relationship to the Echo wall at the Temple of Heaven Beijing.
---
Spaced 3 Rejmyre Sweden - opening performance
02 September 2017
---
Space 3 & ArtLAB Sweden
29 July 2017
Rejmyre Glass Factory - Talk Saturday 29 July 2017
---
Thought Train - Wynscreen Launch
01 July 2017
Finally we can talk about the Wynscreen project that we have been working on for almost a year. Ian Hobbs and I have create a moving image artwork titled Thought Train, it will be up and running for the month of July.
Wynscreen is a 23-metre wide curved LED screen showing a constantly changing series of moving images created by Australian sound and installation artists using contemporary digital technology in their art practices. Situated within Wynyard Walk at the Clarence Street Entrance to Wynyard Station, Wynscreen is the first major immersive public art project commissioned by Transport for NSW in conjunction with Cultural Capital.
---
Nomandslanding in Glasgow
15 June 2017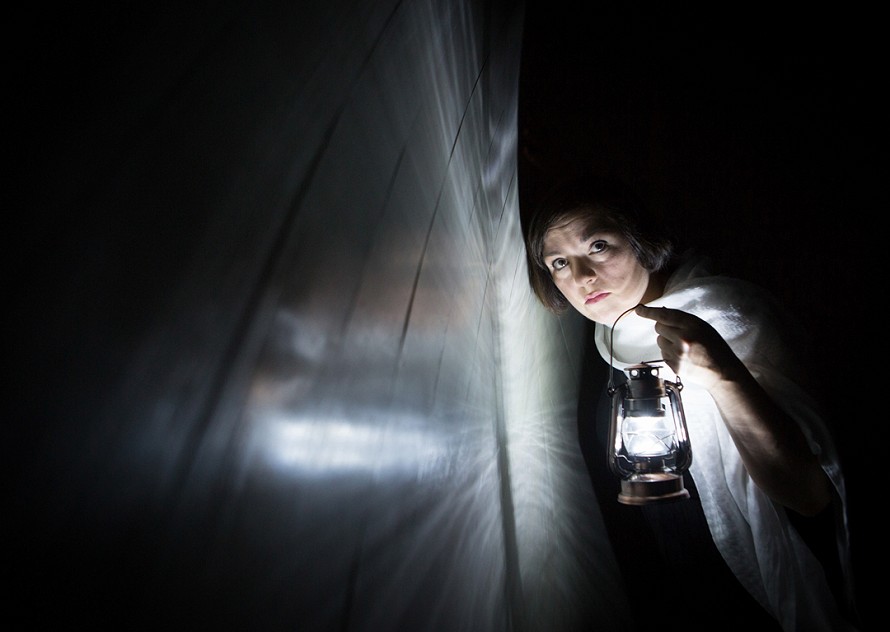 Nomanslanding June 2017 at Tramway, Glasgow.
A major international artwork that has been specially conceived to take the audience on a unique journey through Tramway's epic theatre space. At the heart of the piece is a monumental machine architecture designed to be a space for listening, contemplation and performance.
The work has been developed for this presentation in association with Refugee Festival Scotland and touches upon contemporary themes of migration and asylum as well as more personal experiences of journeying, separation and loss.
Nomanslanding June 2017 at Tramway, Glasgow.Nomanslanding is a unique collaboration by five international artists whose different practices involve public art, sound work, architecture and performance. Co-commissioned and co-produced by Merchant City Festival Glasgow, Sydney Harbour Foreshore Authority in Australia and Urbane Kuenste Ruhr in Germany. It is an outstanding piece of interdisciplinary work that has been experienced by thousands in Sydney and the Ruhr and has now been re-conceived for this, its UK premiere.
---
Spaced 3: North by Southeast - week 3
15 July 2016
WEEK 3: COMPLETION OF WORKS (july 2016)
The new "products" that we produce, as artist guest-­workers, will be presented/disseminated as interventions into the historical and contemporary narratives of the factory. These products will be embedded in the history of the factory in two primary ways: 1) by installing them in the Rejmyre Glass Factory Museum, amongst the other historical objects on display and 2) in the form of a catalogue of conceptual products, in the style of industrial product catalogues/indexes. (DP)[1]
The final week was a very intense working on the final series of work for the product catalogue. After 3 weeks many relationships and collaborations had been established and an understanding of our distinct ways of performing labour. My final work was divided into 2 series: A collection of glass listening-devices and 2 meditative films.
GLASS LISTENING WORKS
This week I had my glassblowing session with John. He blew more that 8 pieces in 2 hour. He took on the challenge and mastered the form. He attempted to fulfill my desire to add a small wipe of red to the clear glass but this proved to be difficult. As I had already discovered, the Rejmrye Red is difficult and expensive, in fact the red I was looking for was not in stock, generally only used for special products, due to cost. We tested blue and dark orange but the conclusion was that clear would be the best solution. From the series of 8 glass pieces one contains a recording of Stefan Orstofsson - the Rejmyre Antique Dealer and glass specialist telling the mythical story about the lost recipe of Rejmyre Red glass the work is title Rejmyre Red Recipe.
FILMIC OBSERVATIONS
The annealing table is a work of pure observation or quiet anticipation. The annealing table is the most contemplative place in the factory. The annealing table exists at a snail pace, it gives birth to the glass objects. The steel wire skin carries the works out and presents them as successes or cracked rejects. This table is mesmeric offering—a place of intoxicating calm.
There are two versions; the second version includes the audio of Sissi instructing the glassblowers in a meditation about heat, one of Daniel's exercises. The work is titled I am Rejmyre Glass.
Like wise drink fountain was another captivating film study made in the first week and then revisited in the concluding week. The continuous running water is for quenching the thirst of the glassblowers. While filming on the last day in the factory one of the glass blowers noticed that I was filming and signaled that he would take part and perform in my film. This was a collaborative act and a glorious moment.
IN CONCLUSION
The 3-­week process was intense and deeply focused. The framework of Performing Labour offered a springboard to establish new thinking and offer a platform to engage with the processes of other artists; observing one another to develop ideas and then put them aside to make room for new investigations. The question is… when is an idea ready to be freely disposable. The Art Lab/spaced 3: north by southeast residency is generous opportunity, thanks to Daniel and Sissi's commitment, calmness and creative intelligence. The collaborative individualism was successful in this group but I can imagine not all artists would be comfortable to give over to such communing. It is rare to observe the process of other artists so intimately…I appreciate the experience and look forward to the second part in 2017.
———————
1 Excerpt from Daniel Peltz's proposal for the residency/workshop
---
Spaced 3: North by Southeast - Week 2
08 July 2016
WEEK 2: DEVELOPING PRODUCTS (july 2016)
Within this context, the workers inhabit a state of dual-­consciousness, their labour becoming both process and product, embodied and disembodied. (DP)[1]
After the first week of workshops and exercises this week became more focused upon ideas development and then creating a product. The idea of product was discussed and pulled apart. The product didn't need to be a tangible object, although in the end everyone created at least 1 glass product. It was hard to resist the pull of the molten glass especially as Rejmyre is one of last surviving glass factories in Sweden. Daniel and Sissi had negotiated with the management that each artist would have an opportunity to work with the master glass blower John. We could work with him for a limited 2-­hour session at a set hourly rate. To effectively work with the glass blower we had to develop a very clear concept that could be discuss and completed with John—one artist per day in the 2 hour session. This was creatively challenging for all; firstly for the artists' to resolve a strong idea and for John to interpret and technically produce the work in glass within such a short time frame – pressure was on.
Much research was undertaken during the week. Ulf the owner of the factory supplied us with many historical books. One that I spent a lot of time with was titled Glass: The Miracle Maker – from 1940's; the Rejmyre factory remains frozen in this time zone so this book was relevant to the space.
In the second week the performance studies scholar Ioana Jucan joined the group as ethnographer-­in‐residence. She conducted an ethnography of the labour at the Rejmyre Glasbruk, while the artist-­as-­guest-­workers developed the product. This entailed discussion and feedback sessions with all the workers in the factory during the Performing Labour residency. These interviews where recorded and will assist in Ioana's conclusive report.
Towards the end of the week many of us needed supplies to complete our products. We made a trip to Norrkoping's amazing electronics supplies Kjell&Co. Ardino boards, discrete mp3 players and small headphones where purchased. In the limited time available I decide to use a ready made sound systems but intend to develop a specifically programmed ardino board for the next phase—the residency in 2017.
Quote of the week
I am happy to hear you are doing fine [2]
1 Excerpt from Daniel Petz's proposal for the residency/workshop
2 From the Roy Andersson's film A Pigeon Sat on a Branch Reflecting on Existence (Swedish: En duva satt på en gren och funderade på tillvaron) 2014
---
Spaced 3: North by Southeast - Week 1
02 July 2016
WEEK 1: ArtLAB Rejmyre Glass Factory
Artist Residents
Sissi Westerburg - SWE; Daniel Peltz - USA/SWE; Alex Auriema - USA, Filip Olszewski - USA; Robyn Backen - AUS.
We had a very intensive week in the factory starting each morning at 6.15am with the glass workers. We positioned ourselves in a very orderly fashion behind the tourist view space. We are there to be viewed and observed by the tourists, glassworkers and management.
The days have been filled with group exercise/workshops, meditation, conceptual challengers and collaborative discussion about each persons proposed product development. Nothing is out of limits and there is so much opportunity to develop ideas individually as well as through the supportive critical feedback of the group. Slowly we are starting to get to know the glassworkers and this allows for an opportunity to understand from the other side.
RESEARCH PROJECT SYNOPSIS
Performing Labour
…the site, an industrial glass production factory in Östergotland that, like many contemporary industries, has turned to auto-exhibitionist tourism practices to supplement a struggling economic position. Within this context, the workers inhabit a state of dual-­consciousness, their labour becoming both process and product, embodied and disembodied. They enact functional craft gestures and produce industrial products, while simultaneously producing a tourist spectacle that renders their labouring bodies, and gestures, as pure aesthetic products. This research considers how a conceptual performance of labour, about labour [in the context of these hybrid industrial/tourist factories], might be used as a strategy to invoke a parallel state of dual-­consciousness in a group of artist­researchers. The research explores understandings, of the complex role of contemporary human labour, that might be glimpsed from assuming this position.
(an extract from ArtLAB synopsis)
---
Spaced 3: North by Southeast
01 July 2016
Robyn Backen selected for the Spaced 3: north by southeast project. Spaced 3: north by southeast is a program centred on an artists' exchange between Nordic and Australian visual artists, managed by International Art Space in partnership with key Nordic and West Australian organisations.
The program will span three years (2016–18) and comprise 12 residency-based projects that will take place in regional, remote and outer-urban locations in Denmark, Sweden, Finland, Iceland and Western Australia. Nordic artists will undertake their residencies in Western Australia, whilst Australian artists will be placed in the Nordic region. These residencies are positioned as the means to develop new works that will be created by each artist in response to their engagement with the social, environmental and historical contexts of the host communities.
Selected artists are: Robyn Backen (NSW), Keg de Souza (NSW), Deborah Kelly (NSW), Danius Kesminas (VIC), Sam Smith (NSW), Dan McCabe (WA), Gustav Hellberg (Sweden), Hulda Ros Gudnadottir (Iceland), Tor Lindstrand (Sweden), Linda Persson (Sweden), Michelle Eistrup (Denmark) Heidi Lunabba (Finland).
Selection by Marco Marcon (director of spaced3) and ArtLAB (Daniel Peltz & Sissi Westerburg) for Rejmyre residency
Spaced3 North by Southeast Website
EXPOSURE 2011
There are many unused rooms in the Rejmyre glass factory building but this room invited engagement. It is a room without light, only a slight spill at the entrance. When I entered this room it offered potential. The darkness suggested prosaic questions: Is it empty? Is it full? What was the space used for? This room asked for disclosure and with subtle performative intervention the room will be exposed to the senses of the audience.
(Statement supporting the performance presented in 2011 at the end of the short residency period link to my website)
---
If you do not speak, do I speak for you?
15 September 2015
Willoughby Visual Arts Biennial, Incinerator Art Space, September 2015
---
Nomanslanding in Germany, September 2015
01 September 2015
Ruhrort Duisburg Germany Sept 2015
Following images from Kreativquartier
---
The resonating Dome
01 September 2015
---
Incidental Murmuring, Cementa 15
09 April 2015
Installation main street, Cementa15, April 9 - April 12 2015
Cementa is a contemporary art Biennial in Kandos NSW, including over 60 artists exhibiting work across over 20 venues.
---
Nomanslanding Opening
02 April 2015
Sydney Opening 2 April 2015
Darling Harbour, Sydney
2nd April - 3 May 2015
Merchant City Festival, Glasgow, Scotland
13 July - 2 August 2015
Ruhr Triennial/Urbane Kunste Ruhr, Germany
15 August - 27 September 2015
---
Opening NML
01 April 2015
Nomanslanding opening Darling Harbour Sydney 1st April 2015
---
NML floats!
28 March 2015
After a week of construction at White Bay Nomanslanding was craned onto Sydney Harbour and towed around to Darling Harbour. Thanks to Jeremy Sparks and his great construction team.
---
NML - White Bay install
19 March 2015
---
Emptiness
14 November 2014
14 November 2014 – 23 January 2015
VISUAL ARTS FELLOWSHIPS: ROBYN BACKEN, LINDY LEE, HILARIE MAIS
Robyn Backen, Lindy Lee and Hilarie Mais were awarded Fellowships for two years to undertake ambitious new projects and develop their artistic careers. Fellowships are only granted once in an artist's lifetime with substantial support to research, reflect, create work, and expand their practice. Backen, Lee and Mais are all celebrated contemporary artists, working across drawing, projections, sculptural form and installation. The Australia Council has created a Fellowships Focus film to accompany the exhibition which profiles each artist's practice and their personal tips when applying for funding from The Australia Council.
The installation EMPTINESS is drawn on 2 sides of a floating wall. It is a charcoal drawing made up of a question and and answer.
a question and an answer
---
Nomanslanding team
01 August 2014
---
St Paul's whispering space
01 July 2014
---
In search of a site for 'Nomanslanding'
01 July 2014
---
Niemansland online
01 July 2014
Niemansland, a cross-national collaborative work. Artists in regular online link-up to evolve conceptual elements. Project development workshop in Scotland and Germany, first week of October.
---
Whispering Architecture research
01 April 2014
---
No Man's Land : Neimansland
02 March 2014
No Man's Land : Neimansland is a collaborative international project which merges the seemingly congruent elements of site specificity and travel in terms of art.
A pair of identical floating concertina walkways are sited on opposing shores of waterways in Australia, Germany, Scotland and Holland. Initially installed in Sydney's Darling Harbour, the floating walkways will travel to the Duisburg Ruhrort Ruhr district, the Clyde River in Glasgow and Buiksloterham IJ in Amsterdam, all the while accruing the memory of their different sitings and interactions.
The work refers to the impasse, the place no one dares traverse, the gap of fear and uncertainty between two sides of tentative safety –a memory, a metaphor inherited from the impossible stand off of World War 1 trench warfare.
Akin to the varied locations of No Man's Land : Neimansland is the the multi-faceted nature of the artists and collaborators involved in it's imagining and manifestation.
---
Cementa15 - Residency
09 February 2014
Cementa15 Residency - Kandos: Part One (9 Feb – 17 Feb 2014)
THE SHOP RESIDENCY
I was in partial lockdown for a week in Kandos at the shop-residency. I spent my time reading writing, drawing thinking, overheating, swimming, walking, a couple of incidental as well as organised meetings with towns people and generally just being in Kandos as an disconnected outsider. As an outsider one is given the opportunity to observe and see the town from a distance. The anonymity affords one the privilege of isolation to contemplate and become absorbed in the landscape of internal thoughts.
THE SHOP WINDOWS
The sketches that resonated most engaged the windows as a membrane. This membrane between the inside and outside of the shop, acts as an acoustic diaphragm for listening to the muffled whispers—external sounds of the street or simply a place to 'eavesdrop' on the passing community. How do we decipher what is public and what is private?
In front of the residency shop window is a place for bumping into people and the sharing of words. The conversations slip in and out of local reference—speaking about the weather; how someone is feeling that day; about the how the kids are going at school; arrange a time to meet up in the future; about an elderly parent; complain about the weather…a place for simple promises of connectedness. This place or site directs and instigates the conversation between friends, neighbours, family, co-workers and the occasional stranger.
Outside the shop window is a place where communication is shaped by politeness, delight, coincidence, repetition – "echoing between local situation and the general shared spaces created amongst people and how they know one another."(1)
LINE OF SIGHT
On entering and leaving the township of Kandos one is greeted by the iconic dome or rotunda. It is not a whispering dome but a landmark place for public and social meeting. The dome structure and the shop residency windows are line of sight, offering an opportunity to transmit wireless communication between the two sites.
(1)B. LaBelle, "Misplace-Dropping Eaves on Ethics." Hearing Places, ed. by R. Bandt, M. Duffy& D. MacKinnon. (Newcastle upon Tyne: Cambridge Scholars Publishing, 2009)
---
Dirt Blood Water - Residency
13 January 2014
ABOUT THE PROJECT - overview film
PUBLIC TALK Sydney Festival: 25 January 2014 Meet the Makers: Can Site Specific Work Tour? 12 noon, Saturday 25 January The Spiegeltent, Sydney Festival Village, Hyde Park, Sydney
Sydney Harbour Foreshore Authority invites you to a public forum at Sydney Festival with the artists and curators of a bold experiment. Sydney Harbour Foreshore Authority, Urbane Künste Ruhr and Glasgow Life / Merchant City Festival have brought together international public artists Robyn Backen, Andre Dekker, Graham Eatough, Nigel Helyer and Jennifer Turpin, alongside urban planners, sociologists, archaeologists and engineers, to create a stunning and thought-provoking public artwork for the waterways of Sydney, Glasgow and Ruhr.
RESIDENCY: 13 - 23 January, Bundanon
On Monday 13 January, the Foreshore Authority hosted the Dirt Blood and Water Lab at the Bundanon retreat, in southern NSW, where I worked together with internationally-acclaimed public artists Andre Dekker - Rotterdam Netherlands, Graham Eatough - Glasgow Scotland, Nigel Helyer - Sydney, and Jennifer Turpin - Sydney, in a melding of creative minds.
Why Dirt Blood and Water?
We explored these three themes in the context of human connections to waterways, life at the edge of land, and the military echoes of The Great War in these urban habitats. We were joined by experts across a range of disciplines including urban planning, social geography, maritime archaeology and engineering.
During the ten day residency, the artists worked with curators: Michael Cohen - Sydney Foreshore Authority, Katja Aßmann - artistic director of Urbane Künste Ruhr, Germany and Lorenzo Mele - senior arts officer, Glasgow Merchant City Festival.
---
Camouflage Install
09 August 2013
---
Camouflage Opening
08 August 2013
---
Camouflage Cultures
08 August 2013
Exhibition Opening: Thursday 8th August 2013 6:00pm Conference: 09 – 11 August 2013
Camouflage Cultures: Surveillance, Communities, Aesthetics, Animals, an international conference and exhibition co-convened an co-curated by Ann Elias and Nicholas Tsoutas.
The conference and exhibition address two key principles of camouflage - concealment and deception - in relation to four themes: surveillance, communities, aesthetics, and animals. The theme of 'surveillance' includes war, defence, militaries, and conflict; 'communities' embraces society, the everyday, government, and identity; 'aesthetics' incorporates art, architecture, film, and popular culture; 'animals' includes human and non-human beings, nature, evolution, pattern, and optics
---
Night Watch - photos by Ian Hobbs
14 April 2013
---
Night Watch - weekly schedule
13 April 2013
---
Night Watch - sequences
12 April 2013
---
Night Watch
10 April 2013
55 Elizabeth St. Braisbane CBD
Default messages constructed with reference to the following passage by Beatrice Warde to be trasmitted across an 11 panel LED canvas: … a printing office…crossroads of civilization…refuge of all the arts… against the ravages of time… armoury of fearless truth…against whispering rumour… incessant trumpet of trade from this place words may fly abroad…not to perish on waves of sound…not to vary with the writer's hand…but fixed in the having been verified in proof…friend you stand on sacred ground…
Fragments of this quote above scroll across the LED canvas 4 times every hour. The passage will never read as a whole but if the public tune in repeatedly they will be able to assemble and decode the message.
These fragments will be varied in their speed, length and their abstraction, ensuring the work has longevity and attraction for repeated viewing, the text itself is limited but the variation and animated effects will provide a visual that provides longterm interest for an audience.
Work in progress, to be completed in 2013
---
Night Watch - 55 Elizabeth St Opening
09 April 2013
---
Night Watch - construction
01 March 2013
---
Last Word 2012
29 September 2012
Last Word 2012 is the third and final performance series for Siteworks. Robyn Backen and the PLANK will return and present a river fugue or a collage of voices transmitted then received— beside, around and across the Shoalhaven tidal zone.
The work is inspired by research undertaken while on residence at Bundanon. In the 1880's the farmer Thomas Biddulph of Eeree (Earie Park) wrote in his diary, each entry starting with a simple weather report. These diaries are the inspiration for a light and sound work which will take place at dusk.
The PLANK: Michelle Xen, Ian Hobbs, Annemaree Dalziel, Neil Mackenzie and Chris Zinn.
The Day's events at Bundanon
SITEWORKS: Future Food FeastSITEWORKS: Future Food Feast
Join the Conversation on Saturday 29 September 2012 at Bundanon.
SITEWORKS: Future Food Feast will centre around food and sustainability
with presentations, artworks and landcare activities for all the family led
by scientists, farmers, artists and activists.
For more information please go to…
---
Preparing for 'Last Word 2012'
25 September 2012
---
Rehearsal for Last Word 2012
20 September 2012
Weather report for tomorrow for 29th September….
Illawarra area Min 13 Max 20 Morning rain.
Partly cloudy. Areas of rain, easing to isolated showers around dawn, clearing during the morning. The chance of thunderstorms early in the morning. Winds westerly 25 to 40 km/h increasing to 35 to 50 km/h in the morning. Overnight temperatures falling to between 9 and 14 with daytime temperatures reaching between 15 and 21.
---
TarraWarra Biennial 2012 - Sonic Spheres
04 August 2012
Can you hear me? Is an installation that invites the audience to listen to an intimate conversation on two bakelite telephones. The disembodied voices draw upon the characters of Marcello and Maddalena in La Dolce Vita, a film directed by Federico Fellini in 1960.
---
'Whisper Pitch' Performance Space, Carriageworks -19th April 2012.
19 April 2012
Robyn Backen's Whisper Pitch is a site-specific installation for the foyer of Carriageworks. Drawing on her architectural research into resonant structures and whispering walls, Whisper Pitch makes reference to visual, structural and material elements within the environment and draws them into conversation with parabolic forms, of the kind found in churches, cathedrals mosques and other places of worship and contemplation.
Amid the ambient noise and bustle of public buildings, whispering walls offered the possibility for discretion and secrecy in the open. The spoken word of one person reflects and travels in a straight line to the opposite side of the parabola or elliptoid, so it is as if the words are spoken directly into the ear of another. Backen's gently performative installation invites public activation and, as with much of her work, is infused with current technological apparatus and the possibility for mass communication within the boundaries of a private act. Bec Dean
Performance Space - Carriageworks
---
'Eye for an Eye' Kindness - March/April 2012
16 March 2012
16th March - 3rd April 2012 Exhibition: Kindness/Udarta India Habitat Centre, New Dehli, India Robyn Backen will participate in Kindness/Udarta, an exhibition to mark the Australia-India Year of Friendship in 2012. Curated by Dr Alka Pande and Suzanne Davies, the exhibition will open at the India Habitat Centre in New Dehli and subsequently travel to Melbourne, where it will be hosted by RMIT Gallery. + India Habitat Centre, New Delhi
---
Whispering architecture, India - Jan 2012
15 January 2012
My 2 year Austalia Council Fellowship began this January. The fellowship will allow for travel to historical whispering architecture throughout the world with a number of artworks to evolve from this research.
---
Sookmyung Women's University Gallery, South Korea. November 2011
01 November 2011
Sydney College of the Arts is embarking on a new partnership with the Sookmyung Women's University in South Korea. To mark the official year of friendship between South Korea and Australia, SCA hosted an exhibition of work by professors from Sookmyung in July 2011. In November, SCA will hold an exhibition of work by our senior female "professors" at the Sookmyung Women's University.
---
'Backspace' Book Launch - 12 October 2011!
12 October 2011
Book launch at Art Gallery of NSW. Selling at many bookstores: AGNSW, ARIEL, GLEEBOOKS, Kinokuniya, LAMELLA -NSW, Perimeter Books -VIC, Queensland Art Gallery - QLD or you can buy from this WEBSITE
Distribution enquiries MODERN JOURNAL Robyn Ralton 03 94848101
Designed and published by Suzanne BOCCALATTE and written by Susan Best
---
'Last Word 2011' - Siteworks, Bundanon. September 2011
25 September 2011
Siteworks is an ongoing series of interactive projects focusing on the unique Bundanon properties overlooking the Shoalhaven River. It invites selected arts practitioners, scientists and scholars to meet and stay at Bundanon, responding to the site through the lens of their specific disciplines and areas of interest.
In partnership with the University Wollongong and with the support of the Arts NSW and Australia Council, Bundanon has hosted residencies and extensive site based research. The conversation this year included presentations by several of the Siteworks Associates – a group involved in ongoing Siteworks conversation.
As well as presenting at the Sunday forum the 'Last Word 2011' team performed by the river's edge at dusk on Saturday 25 September 2011.
'Last Word 2011' In 1880 Thomas Biddulph of Eeree (Earie Park) wrote in his diary, and each day he started with a simple weather report. His observations are the basis of this work. 'Last Word 2011' takes the form of what could be called a river fugue or simply a collage of voices transmitted then received— beside, around and across the Shoalhaven tidal zone.
This year's 'Last Word' was a collaboration with; Michelle Xen, Ian Hobbs, Neil Mackenzie, Terry Hayes, Annemaree Dalziel, Nick Keys, Richard Manner and Richard Montgomery.
---
'Exposure' Rejmyre, Sweden. July 2011
01 July 2011
Reflecting on time spent in Rejmyre
(It is now just over a week since I arrived in Rejmyre to take part in Art LAB.) I have been immersed and consumed with daily commitments…engaging with other artists, getting to know the township, experimenting, discussing work made here and elsewhere. This certainly has been an opportunity to engage, contemplate and explore in the calmness of a new state of isolation.
Not only "art" was made and thought about but berries where gathered, puddings where baked, kayaks where expertly mastered and the boules challenge is never over. Sissi and Daniel have established a wonderful space for challenging creative inspiration.
'Exposure' There are many unused rooms in the Rejmyre glass factory building but this room invited engagement. It is a room without light, only a slight spill at the entrance. When I entered this room it offered potential. The darkness suggested prosaic questions: Is it empty? Is it full? What was the space used for? This room asked for disclosure and with (a) subtle performative intervention the room will be exposed to the senses (of the audience).
---